Charlie and I attended the aikido and pancakes at the permaforest trust on the weekend (
http://www.permaforesttrust.org.au
). These
events occur monthly I think, and would encourage you to go for :-
a) aikido practice with people you may not train with
b) no one makes pancakes, maple syrup and other goodies quite like a
Canadian
c) a fabulous spot to getway to - not too far yet worlds away from
Brisbane
Charlie has a brief report - attached below. But i'd like to add that
Tim is keen for the permaforest trust to be utilized not only
sustainable development activities but also for positive body, mind,
spirit activities (like aikido) accomodation for 30 i think!. The
facilities are first class, but with minimal impact on the
environment. A fantastic location for retreat. In fact Guy, from the
griffith dojo  is holding a chi kung w'shop there over easter i think.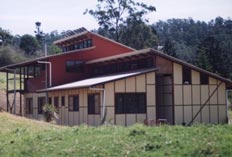 Charlies review
Drove down to Tim's place. Have you been, it's awesome! Just incase you haven't I'm gonna explain it ;) It's right next to the Boarder Ranges National Park. It's got this wash-house with this really nice open aired bath. There is the communal kitchen, living area.... The living room is actually a room with a fire etc, but the kitchen is open on two sides....all native hardwood. Then they've built a house for the visitors, basically lots of bedrooms etc, flush toilets and a shower. This is where Danny and I stayed, in a loft. We had dinner and played scrabble and then headed off to bed. The next morning we had porridge for breakfast (my first time I
think) and then went to the purpose built dojo. It was beautiful! One side completely opened up (folding doors) so when inside you could see the mountains all around! We did a couple of hours of aikido. One hour of Sensei Phillips which was good. Variations on the shoulder grab, a kokunage and an irimi nage. The kokunage really did a lot of our heads in cause we weren't use to the opposite hand thing... hard to explain, but I really enjoyed the irimi nage. Then Danny did some of the security techniques(from Joe Thambu's seminar). It was this two finger grab and it really enjoyed seeing how effective slight variations to our 'peaceful' art can be so dramatic. After the morning session came the pancakes and fruit, rested for a little while and went back and did some randori for another hour or so which was great!
Completely non-confronational which I've never completely felt before. I think training away from home you can let your guard down a little and not have to 'prove' that you know enough techniques to be a brown belt....anyway, it's one of the first times I haven't had to really 'think' through the randori and I'm far more sure of my new uke skills which is fantastic.